The Paiute Trail System is one of those long sought out trails that everyone here at the magazine has been wanting to do for a while. We've been trying to plan a trip to this popular destination for some time now, and it wasn't until talking with Shannon Bushman of XXX Offroad out of Marysvale, UT that we planned our trip. We were excited to not only ride the trails that they know so well, but also have a chance to see their operations in full swing. In addition, we had just heard that there was going to be a new UTV Jamboree held in Marysvale, UT at the famous Lizzie and Charlie's Campground and RV Park. We also had a chance to meet up with Doug Meyer from ATV Television who also lives and runs his television show in this quaint little town, so we knew we were going to have some fun hanging out with some old friends, as well.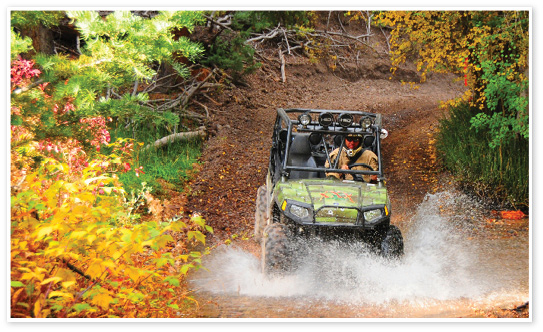 Leaving Flagstaff, AZ, I headed to Marysvale, UT on Thursday September 25th, which ended up only being a little less than a 5-hour drive. Upon my arrival, I met up with Milo and Shannon for dinner. But, in normal Paiute Country fashion, we didn't drive by car, we hopped in their UTVs and headed to the Big Rock Candy Mountain Restaurant via Trail 02, 22, and finishing up on Trail 74. Dinner was great, and I began to learn that the way of life in Marysvale is a little slower and relaxed than I am used to. This was great and just what I needed, the whole idea of riding your UTV anywhere you needed was a nice change of pace.
On Friday morning, I met up with Shannon at their Offroad shop, and we headed up Trail 77 up Bullion Canyon in our Polaris RZR to the miners park. One of the things we were so excited about was all the leaves were changing. I think we got lucky and hit it right at the peak to see the fall colors change. The colors were the most vivid I've seen, just absolutely amazing, to say the least. We snapped a few pictures of the old mining buildings, then turned around and continued up to the top of Marystop of Allunite Ridge, which is referred to as the Bradburn Saddle. There were some really nice sunset clouds in the distance and panoramic views in every direction you could see. I'm not quite sure how high we got to, but we were o
bviously above the tree line.
On Friday afternoon, we jumped into the UTV and took the same route we were on Thursday night, but continued up Trail 74 to Trail 01 to the top of the mountain. Talk about views! All I can say is wow! Upon our return, it was dark, so we chose to return the quick way via Trail 02, which was a screamer, but if you get going too fast in your RZR and miss a corner off the cliffs, you'd fly.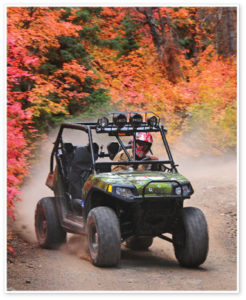 On Saturday we hooked up with Darin Bushman, Shannon's brother; Doug from ATV Television; and Milo from Lizzie and Charlie's for yet another great UTV ride on the other side of the main highway. We took the Barney Lake Trail, which isn't considered an official trail on the Paiute Trail System, but it is a designated forest service road #194. Everyone was interested to see the condition of the trail, because it used to be very technical. Unfortunately, they had bulldozed it so the majority of the rocks were off the trail. But, it was gorgeous riding on a 50" trail in our Polaris RZR through the trees and panoramic fields. We took it to Trail 01 on the East side north to Trail 78 up to the top of Monroe Peak. We were a little hesitant to head all the way to the top of the Peak, because it had been raining off and on and our RZR didn't have a top or windshield, but the views were well worth it. In fact, this was the location of where the photo on the official Paiute trail map was taken. By this time, it started to get a little cold as we headed down Trail 65 to Trail 24 back to Marysvale via Trail 02. Just as luck would have it, the weather had decided to let loose, and we were thoroughly soaked to the bone by the time we got back.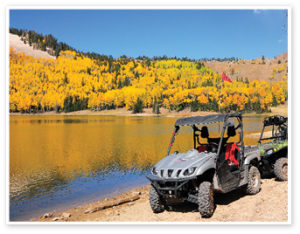 On Sunday, we took Trail 02 west to Trail 01. On our way up, we happened upon a group of dirtbike riders that had an accident. Luckily for them Darin, of Bulldog ATV Racks, is an EMT, so he had her fixed up and on her way back down in no time flat. Trail 01 is known as the Joe Lott Trail, which took us to the Fremont Indian State Park. We took a quick tour of the park's hieroglyphics, and then headed up Trail 13 in our UTV to the Ghost Town of Kimberly. Then we rejoined Trail 01 down to Trail 02 and headed back into town.
Overall, we couldn't have asked for better riding experience, and the weather was fantastic this time of year. The leaves were spectacular in color, and we got to hang out with old friends and made new ones, as well. We're looking forward to attending the UTV Jamboree hosted by Lizzie and Charlie's Campground & RV Park on August 13-15th, 2009. In fact, I'd highly recommend their facilities whether you attend their Jamboree or not. They have very clean cabins, around 100 RV spots, tents spots, trailers you can rent on-site, and even a fully furnished house you can stay in, as well. In addition, if you don't have a UTV to ride when you visit, they rent a wide variety of UTVs, including the Polaris Ranger Crew, RZR's, and Yamaha Rhinos. They're right in the heart of the trail system and served as the base camp for our stay on our trip. Right across the street, there's also a great restaurant they run, as well, called the Prospector. But, don't expect much else to be around. In fact, if you're driving the speed limit, you can count to 30 and be through the main part of town. But, right from camp, you can get gas for your UTV, buy groceries, clean off your vehicles at the car wash, and eat some great food. What else could you ask for on your vacation?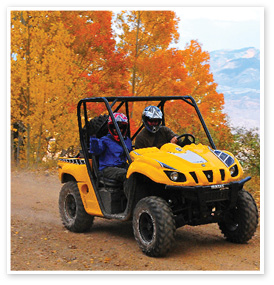 If you are planning a trip here in your UTV and have heard that the trails are mainly for 50" wide or less, don't worry, this is for only about 1% of over 2,000 miles of trails.  We highly recommend going in fall when the leaves are changing color if you get the chance.  If not, anytime from spring to fall is great unless you like the cold.