It's not every day that a manufacturer releases an all-new vehicle to their line-up, but with the exciting growth of the UTV market, Kymco has just released their brand-new 500 cc UXV. Now, you're probably thinking, how's it differ from the rest of the field out there, right? Well, we had a chance to travel to South Carolina to put this brand-new UTV through its paces.
Engine and Transmission
The engine and transmission combo in the UXV worked flawlessly for us throughout the day of testing. Although the 500cc engine is smaller than some of its larger competitors these days, for the type of tight woods trail riding we encountered, it was plenty. Plus, with the Rhino 450s still around, I think these two will be battling it out in the near future for top honors. In fact, to our surprise, on open gravel roads it had no problem breaking the 40 mph barrier, which was a welcome surprise. The engine is a dual overhead cam 4-stroke that actually comes in at 498.5cc with a rather impressive 36HP at the crank. You'll find a typical CVT transmission with high, low, reverse, and neutral. There's also shift-on-the-fly 4wd and a selectable front locking differential, as well.
All in all, the engine and transmission didn't miss a beat during our initial testing. Although it's still carbureted like the new Teryx, it seems to have no trouble starting or providing smooth power delivery throughout the RPM range. The only thing we'd like to see different is the access to the CVT in the event a belt breaks. Right now, the way it's designed,
it would require the gas tank to be removed to replace a belt. If this could be changed for the future, that would be a nice improvement, but not a necessity.
Braking
When it comes to stopping this 1157-pound UXV, Kymco didn't disappoint with hydraulic dual discs up front and a hydraulic disc in the rear. The parking brake was a simple pull lever up underneath the dash, which seemed to work very well. With the advent of nearly everyone changing the designs of their parking brakes to be more visible and easy to operate, we wouldn't mind seeing the parking brake on the Kymco UXV either on the center console or up on the dash. And, what we've really liked is what Polaris did on their Ranger XPs by disabling the engine's power when it's applied. This prevents the operator from burning up the parking brake. Overall, though, that's a minor change and the brakes had a great feel to them with little to no brake fade when pushed hard or submerged in water or mud.
Suspension
The suspension on the Kymco UXV was nothing short of amazing. During our initial test drive, it seemed to be one of the best rides we've ever had in a stock UTV. I was very surprised to see it soak up the largest of bumps without bottoming hard, yet at slow speed it seemed to be riding on air. It was very impressive! From the factory, it comes with a dual A-arm setup front and rear with 7.5" of travel for each. For a lot of UTVs, the rear end has a tendency to buck a little when hitting jumps or whoops, but we couldn't get it to do this in the Kymco. It rode very similar to the new Kawasaki Teryx, but even plusher at slow speed. We didn't have a chance to test it with weight in the bed, but that's one thing I'd like a chance to test in the future. The other nice thing about the UXV was the 12.2" of ground clearance. In the rocks, it had no problem traversing the toughest of obstacles with little to no trouble. And, its width is right in line with a Teryx and slightly smaller than a Ranger XP, so stability in corners didn't appear to be an issue.
Looks and Ergonomics
Walking up to the Kymco UXV, you'll immediately notice how it looks like a cross between a Prowler and a Rhino. To me, it's pleasing to the eye from every angle you look at it. Once you take a seat in the cab, you'll notice the lights and 4wd button to the left of the steering wheel and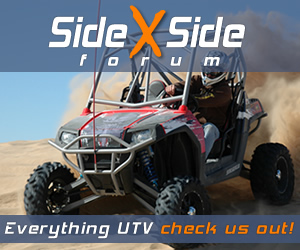 the ignition key and diff lock lever to the right of the steering wheel. Although it doesn't have a tilt steering wheel, it has a comfortable driving position. In the center of the dash, you'll find the digital dashboard, choke, and a 12V power outlet. Unlike some UTVs, the digital dash comes standard with a fuel gauge, speedometer, odometer, trip meter, high beam indicator, neutral/reverse light, and a high temperature light. In addition to this, it comes with a healthy 150W alternator, which should be plenty to run any accessories, such as lights, radios, etc. While we didn't get to test the towing capacity of 1212 lbs and the tilt bed capacity of 420 lbs, those are very competitive with what's available from others in the industry. Another nice couple of features to the UXV is the large glove box in addition to the deep open cavity in the dash, as well. It's always nice to have easy-to-reach storage in these UTVs, and Kymco didn't disappoint in this area. Last, but definitely not least, the side nets aren't necessarily the easiest things to get in and out of, but they do their job very well to keep your legs inside in the event of a rollover. Sometimes we have to sacrifice some ease of access for safety, that's for sure.
Test Drive
As mentioned above, we were very impressed with the ride quality of the Kymco UXV. The suspension was very plush, soaking up the largest of bumps all while providing a super plush ride at slower speeds, as well. In tight corners, we realized rather quickly that a tighter turning radius would be welcomed, but overall the steering was spot on when running at higher speeds. We had a chance to test on hard pack fire roads, washed out trails, tight woods muddy trails, deep water, and we can honestly say it handled it all with ease with the most noticeable thing being the great responding suspension. The power response seemed to be right there when you needed it, yet not jerky when starting and stopping. Obviously, for all those power junkies, it isn't the fastest thing around, but that's not what they designed it for. It will do very well to holds its own against its competitors like the Rhino 450 and even some of the larger big bores, as well. In fact, one nice feature is it's not governed, so its top speed is definitely faster than its direct competition out of the box. Plus, it has nearly as much power as some of the large big bore UTVs, as well. It never felt tippy in off-cambers, and the tires seemed to do real well through the muddy, root-infested trails. While rock crawling, we noticed it had nice ground clearance and plenty of low end torque to pull us up the technical trails we had to test on. The 4wd system worked flawlessly with the diff lock, providing very positive and noticeable engagement.
Final Thoughts
While coming into the UTV arena later than some, Kymco is still ahead of Honda, Suzuki, Can-Am, and whoever else might be getting into the game. Will they be the next best UTV? That's for you to decide.. But be rest assured, this Taiwanese manufacturer is leaps and bounds over all of the cheap knockoffs you may have seen on the internet. With a growing network of dealers around the country, Kymco is moving in the right direction with their new UXV. And, we do have to say that they've done their homework and built a nice looking machine with good performance to back it up. With its class leading suspension, great ergonomics, economical price tag, and a great combination of work and play, I'd say you're going to see a lot more of these units in your neighbors' garages in the near future. By the way, word has it, that they will be offering the UXV with more ponies in the future.
Review By: UTV Off-Road Magazine