Twice as much of a good thing is always better, right? Absolutely. So you knew Kawasaki would eventually double the Teryx's substantial fun and function factor by adding two seats – enough for more friends, extra help or the whole family.
The result is the all-new 2012 Teryx 4 750 4×4 – a top-of-the-line four-seat RUV with truly amazing capabilities. Of course, Kawasaki didn't just bolt two extra seats to the Teryx 750's chassis and call it a day. Engineers figured out exactly what was needed to do the four-seat Rec/Utility concept right, redesigning the entire machine from tip to tail with an all-new chassis and a thoroughly reworked V-twin engine pumping out extra power for the additional load the Teryx4 will gladly carry.
The foundation of any top-tier RUV four-wheeler – especially one with four seats and significant carrying capacity – is its frame, so Kawasaki engineers used detailed computer analysis and loads of off-road testing when developing the Teryx4's all-new square-tube steel frame. Unlike the more conventional designs found on many lighter-duty two-seat RUV models, the Teryx4 features a Double-X frame design with two X-shaped cross members bridging the box structures from corner to corner.
Like the frame, the Teryx4's 749cc V-twin four-stroke engine is also new, offering 15 percent more power than the already stout unit in the 2-seat Teryx, along with all the durability to deal with the rigors of spirited fun in challenging off-road environments. The V-twin design is revered for its stump-pulling power and easy-to-harness flexibility, which makes it the perfect powerplant for a machine like the Teryx4, which thrives on instantaneous and controllable low- and mid-range response partnered with eye-opening hauling ability. In fact, engineers purposely gave the big Vee a bit of a dual personality: there's exciting, arm-straightening yank when ridden solo or with a
single passenger, but plenty of torque and grunt for carrying more people or heavier loads – much of it due to revised camshaft profiles and equal-length exhaust headers.
Liquid cooling – assisted by a large-volume radiator and large-diameter fan – keeps temperatures down and reliability up with help from an array of superb engineering: optimized piston-wall thickness; special surface treatments to piston pins, small and big end bearing surfaces; idealized crank journal bearing sizes; robust transmission design; and much more.
Electronic fuel injection – featuring new fine-atomizing 12-hole injectors – offers easy starts and perfect throttle response at sea level and at the higher elevations you'll want to discover again and again. The FI system offers automatic mixture compensation, automatic idle adjustment and easy, choke-free starting via a sophisticated array of sensors for inlet air pressure, throttle position, crankshaft position, rpm and coolant temperature.
The Teryx4's 90-degree V-twin engine is also super-smooth, its perfect primary balance keeping things comfortable for driver and passengers all ride long. Routing all that impressive and usable power to the wheels – and ground – is the latest in modern drivetrain technology: a Continuously Variable Transmission (CVT), a category-first centrifugal clutch assembly and an electrically selectable 4WD system featuring instant-switch access to 2WD, 4WD and 4WD+Front Differential Lock system. The CVT is well known for its quick response and direct engine "feel" in sportier riding situations, where engine power is used to control the chassis while turning and in rough conditions. The key to the Teryx4's dual-mode personality is its category-first centrifugal clutch, which offers an extra degree of precision slow-speed power manipulation and smoothness, which is ideal for tricky terrain (rock crawls, etc.) or slow-speed work where precise throttle manipulation is key. The oil-bathed clutch design also contributes to improved CVT belt life by lessening shock and belt deflection.
The electronic 4WD system allows drivers to easily change between three different drive modes for most situations they find themselves in: 2WD (light steering) for maximum sporty performance, 4WD for enhanced traction while keeping steering relatively light, and 4WD+Differential Lock for maximum traction situations. A dash-mounted switch makes switching between these modes easy, and changes occur instantaneously so the driver remains in complete control at all times. So whether it's climbing a slippery and rocky uphill trail, negotiating a wet stream bed, hauling lumber for fixing fences on the farm, or hauling butt down a wide-open two-track, the Kawasaki Teryx 4's got the traction and drivetrain mode to handle it.
All this superb handling ability is aided by a number of factors, including a wide-track/wide-body chassis design that contributes to superb cornering characteristics. A wide track resists the body roll that accompanies cornering forces, and helps the chassis cope with rough terrain at speed. The Teryx4's mid-ship engine placement also helps by centralizing the vehicle's center of mass and minimizing the inertia that accompanies direction changes.
Of course, sport-focused independent suspension helps, and the Kawasaki Teryx 4's got plenty. Again, engineers opted for a dual-mode design; that is, the suspension works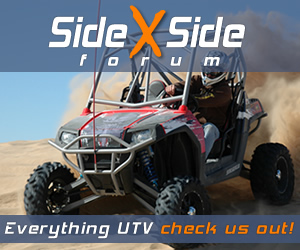 in a comfortable way with four passengers aboard, but also performs like a sporting RUV in a solo mode or with a single passenger. It's a difficult combination to get right, but high-grade componentry helps out. Up front are high-performance single-chamber gas-charged and preload-adjustable shocks complemented by an anti-roll bar, which allows an ideal front/rear roll balance and added ride comfort. In back are fully adjustable shocks with piggyback reservoirs, which offer additional oil flow for cooler temperatures and more stable damping performance.
With all this speed and handling potential, excellent brakes are a must, and the Teryx4 delivers in a big way. High-performance hydraulic discs up front using 200mm rotors gripped by dual-piston calipers offer exceptional feel and stopping power. The brakes are recessed within the wheels, protecting them from dirt, water and debris, while durable steel-braided lines help keep lever feel crisp and progressive. In back is Kawasaki's unique sealed internal wet brake, similar in design to the highly acclaimed disc system used on our award-winning ATVs and two-seater Teryx models. Internal components are completely sealed from mud, water, dust and debris, the result being ultra-reliable braking performance in most conditions. The combination of powerful discs up front and the sealed system in back is ideal, and contributes once again to the Teryx4's wide-ranging overall performance.
Large 26-inch Maxxis Bighorn 2.0 tires are the largest available in the RUV category, and offer the type of ride comfort, control and traction you'd expect from an RUV this capable in so many different environments. Their tread and carcass design help maximize forward traction while at the same time optimizing control for aggressive cornering.
The Kawasaki Teryx4's unique chassis dimensions help in the areas of turning, climbing and working, too. Its relatively short (compared to other four-seat RUVs) 85.7-inch wheelbase affords it a surprisingly small 16.7-foot turning radius, which makes tight turns an easy affair on trails or in tight spaces. The unit's substantial ground clearance (10.8 inches) helps keep it from bottoming when cresting a ridge or rolling an obstacle, while high approach and departure angles (79 and 65 degrees, respectively) thanks to minimal bodywork overhang reduce the possibility of smacking the front bumper when approaching a steep slope or scraping the tail when exiting one.
Did someone mention work? The Teryx 4 excels at all sorts of 9-to-5 or leisure-oriented jobs, from hauling to transportation to towing, from small jobs to really big ones. Its 250-pound-capacity cargo hold is sizeable, measuring 18 by 48 inches, with an 8.5-inch depth. The flat-bottomed space is big enough for a large cooler, spare fuel cans or other large objects, and four tie-down loops help secure cargo safely. The rear wall is shorter in the center, which makes it easier to load and remove items. Towing capacity is a staggering 1,300 pounds.
Convenience features include DC sockets – one in front, another in back – providing a total of 120 watts of electrical power, while nearly 8 gallons of fuel capacity offer substantial range, enough for a long day of work or trekking. There's a drink holder for each of the four seats, while an auto-style parking brake activates the sealed rear brake setup, to aid parking even on a slope. Getting at the front suspension, coolant reservoir, air filter and electrical equipment is easy thanks to an easy-open front hood, which is part of a body package that's stylish, rugged and rugged-looking.
Those powerful and purposeful good looks start up front, with a stylish hood, beefy steel front guard, headlamp and fender design that gives the Teryx4 a no-nonsense look that says "sporty" and "functional" in the same breath. Standard doors front and rear are easy to use, look good, and offer a level of mud protection. Scratch-resistant bodywork and textured paint on the ROPS framework and front guard help keep the Kawasaki Teryx 4 looking good for a good long time, too.
You'll enjoy riding in the Teryx4 for a good long time, too, because it's the most comfortable RUV in its class by far. Its roomy interior gives driver and passengers room to spread out, with plenty of hip, shoulder and legroom. High-backed bucket seats and three-point seatbelts offer a high degree of comfortable security, while urethane cushioning and cold-resistant elastic seat material provide all-day plushness. The adjustable front seats offer three positions in one-inch increments, while the back seats are mounted slightly higher than those in front to give passengers a better view forward and an easier time getting in and out. Handholds integrated into the frame give passengers extra security, while comfort mounts and an anti-cinch feature on the seatbelts helps prevent over-tightening when the belts lock during sudden deceleration (or when the tilt sensor is activated). Helping ensure riders wear their seatbelts is a handy seat-belt use reminder light, which remains lit if the driver's belt isn't buckled.
Instrumentation is top-notch, and includes a multi-function electronic display that provides a ton of useful information: Speedometer, fuel gauge, odometer and hour meter, clock, dual trip meters, 2WD/4WD indicator, front differential indicator light, parking brake indicator, water temp and fuel injection warning indicators, reverse indicator light, etc. – everything you need to know.
Power. Comfort. Convenience. Hauling and towing ability. Reliability. Four wheels. And now, four seats. Our Kawasaki Teryx model line has always been a pinnacle of off-road fun and function. And for 2012, there's twice as much to like about it.
A large selection of authentic Kawasaki Accessories is available through Kawasaki dealers for the 2012 Teryx4 750 4×4. As with all off-highway vehicle recreation, Kawasaki encourages RUV drivers to drive responsibly and to respect the environment.
Kawasaki Motors Corp., U.S.A. (KMC) markets and distributes Kawasaki motorcycles, ATVs, personal watercraft, utility vehicles and recreation utility vehicles through a network of more than 1,350 independent retailers, with an additional 8,000 retailers specializing in Kawasaki power products and general purpose engines. KMC and its affiliates employ nearly 3,100 people in the United States, with 300 of them located at KMC's Irvine, California headquarters.
Kawasaki's tagline, "Let the good times roll.", is recognized worldwide. The Kawasaki brand has become synonymous with powerful, stylish motorcycles for over four decades. Information about Kawasaki's complete line of recreational products and Kawasaki affiliates can be found on the Internet at Kawasaki Motorcycles, ATV, Jet Ski Watercraft, Utility Vehicles, Recreational Utility Vehicles.
Review By: UTV Off-Road Magazine