In one short decade, side-x-sides have evolved from trail friendly utility machines to pure-sport, race-worthy, high performance vehicles. Everything about them — engines, suspension travel, width, length, speed, acceleration..have one common evolutional characteristic:
Bigger is Better
Can-Am's new Maverick MAX is no exception. At the 2014 Can-Am model press intro, the Maverick's gigantic size was teamed with an equally large engine growl and muscle car appearance. The suspension looked wide, wicked and ready to tackle a war zone. We couldn't wait to slip behind the wheel and mash the gas pedal.
Super Stretch!
The Maverick MAX is a very long vehicle, at just over 148 total inches. The wheel base is actually stretched 29.5 inches to make plenty of room for the rear seats. Slipping into the new back seats was surprisingly effortless and met with adequate room and a very comfortable seating position, even for riders stretching past the 6-foot height mark. We're not exactly sure why Can-Am refers to the rear seats as "stadium-style" as they are certainly more comfortable than anything we've encountered at any sports stadium — even in one of those high-dollar suites! The seats are plush and form to the body very well. They also have just enough rise to allow for a good view over the front driver and passenger.
Separate grab bars, located between the seats, are constructed to be highly functional and comfortable. Can-Am provided one for each occupant, with positioning and a grip that feels natural and secure. It also helps prevent over excited rear-seat partners from slapping you in the face on those wild dune rides. The phrase, "shut up and hold on" make a whole lot more sense with a good grab bar.
Up front, nothing has changed. Seating is as comfortable as ever. We really liked the adjustable driver seat, which makes comfort
for pilots of all sizes a non-issue. Both front seats are also removable for easy cleaning and maintenance chores. Tilt steering allows for easy entry and exits and the side safety nets are fairly easy to clip shut. All passengers are covered by a 2-inch diameter ROPS (roll over protective structure) cage.
Rotax Rumble
With all that extra size, one might wonder if the added weight hampers the MAX's power output, especially with four, adrenaline-crazed occupants inside. Well, we are talking about a mammoth 976cc, 101-horsepower, Rotax V-twin. It rumbles like a small-block Chevy exhaling through a pair of Flowmasters – and it accelerates like a catapult…instantly! Throttle response is snappy with fuel being fed from a long-range 10-gallon fuel tank — through a pair of single overhead cam, 4-valve cylinders — via a large-mouth 54-milimeter Bosch throttle body. Dual exhaust? Yeah, the MAX has it. And you won't hear a sweeter exhaust note than dual exhaust fastened to a Rotax motor.
Testing at full seat capacity was anything but disappointing. The MAX rockets up chopped up hills, powerslides through sweeping corners and flat out gets it down an open straight. The engine is a perfect choice for a vehicle of this size, and will keep the "you can never have too much horsepower" crowd smiling.
Some Like It Rough…
…the terrain that is. But what you won't get is a rough or unpredictable ride out of the Max. Double A-arms up front are mated with FOX 2.0 Podium X Performance piggyback shocks that are rebuildable and fully adjustable. There's 14 inches of travel and 12.5 inches of ground clearance available to tackle the worst conditions. At the rear, a matching set of shocks is teamed with Can-Am's unique Trailing Torsional A-arm (TTA) suspension. The five link system is designed to be more durable and use fewer parts than conventional A-arm setups. It also does a superior job of virtually eliminating the effects of bump steer and wheel scrub. We found an intense uphill climb laden with rocks and some of the biggest roots we've ever seen. Even at full throttle, and through the trees, the MAX tracks straight as an arrow.
Balancing Act
The folks at Can-Am do a lot of bragging about their frame with phrases like "precise weight distribution" and "mass centralization;" and they've got good reason. Some other brand side-x-sides do tend to be heavier in the front or rear. It's most noticeable by those of us that are more happy in the air than on the ground. Balance also affects handling, especially during cornering. By bringing the bulk of the weight into the center area of the frame, and positioning it down low, Can-Am has created a perfectly balanced chassis that corners with predictable precision. Even on tight wooded trails — where we thought a vehicle of this size would get us in a lot of trouble — it surprised us! Taking 90-degree corners at speed, we expected to hear our chassis rubbing a tree trunk, or at least the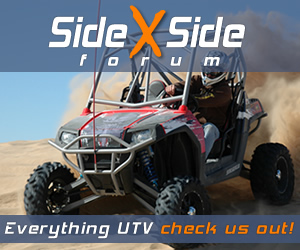 rear tire bouncing off of it. But the MAX rips through the woods like thread through a needle. In the air, it flies level — every time.
Maverick MAX 1000R X rs DPS
Two major features stand out to us in this upgraded X package that we really wouldn't want to do without:
#1 Tri-Mode Dynamic Power Steering- The base MAX will feel just fine at first, but if you get behind the wheel of your buddies X model for any amount of time, you'll kick yourself for not spending the extra dough. The difference is that good, and Can-Am gives you three levels of on-the-fly electronically selected power steering to choose from — low, medium and high — for different trail settings and conditions. A digital gauge on the upgraded X-package 3-D dash tells you what mode you're in.
#2 Visco-Lok QE- If you do any type of rock crawling or mud-riding, you want this! QE stands for Quick Engagement of the front differential, and it works great in conditions where traction is needed the most. Visco-Lok engages more power to the wheel that is getting the most traction, and QE allows the wheels to lock sooner than ever before. The transition is fast and seamless without any side-to-side-shift as the tires grip the terrain.
You'll also dig the shocks on the X-package, upgraded to Fully adjustable front and rear FOX 2.5 Podium X Performance shocks.
Remaining X-package goodies include 12-inch aluminum beadlock wheel, a custom steering wheel and two different color and graphics packages to choose from; yellow and black or red, black and white. At $2500 extra, the X-package is an expensive upgrade, but we think it's well worth the price considering the comforts it will provide out on the trail.
Share The Fun!
Can-Am stunned us with a perfectly developed, four-seat side-by-side that doesn't sacrifice engine performance or trail prowess. The MAX provides the next most logical step in the Maverick's evolution — taking your friends along for the ride of their lives!
Review By: UTV Off-Road Magazine