Kawasaki has raised the styling bar for 2009, offering a modern, rugged, truck-like body style for its versatile Mule™ 4010 Trans4x4® Diesel that quickly transforms from a four-person 4×4 to a two-person unit with an extended cargo bed. This new look complements popular changes made the prior model year, which saw the company add electric power steering (EPS) finesse to the extra grunt and convenience of this off-road utility vehicle.
NEW BODY
The new bodywork draws comparison to the styling of many modern pick-up trucks that are often seen working alongside the Mule. Its panels are durable, color-molded plastic that helps hide scuffing and its rugged-looking front hood can be lifted with the pull of a dash-mounted knob to reveal a now deeper storage space. This compartment also has convenient D-rings to secure cargo.
STEERING
The EPS offers a more controlled ride by reducing steering effort at low speeds and harnessing the electric motor's inertia to dampen much of the bump steer and kickback caused by impacts to the wheel. Electrically driven, the motor is controlled by an Electronic Control Unit (ECU) that uses input from a vehicle speed sensor and torque sensor to determine the amount of assistance provided by the system. The system works immediately after the engine is started, yet doesn't create a power drain on the engine.
TRANSMISSION/ENGINE
This off-road work horse features a fully automatic transmission with two or four-wheel drive options, and takes only a moment to convert from a two to a four-person ride. While the cargo payload expands from 400 to 1,100 pounds in the two-person configuration, users have the ability to
select between cargo and personnel carrying needs, depending on the specific job-at-hand. This versatility, coupled with the stalwart Kawasaki liquid-cooled, three cylinder diesel engine makes the Mule 4010 Trans4x4 Diesel an immediate winner. Its overhead valve design maximizes efficiency while the cast iron block and head ensure extra durability in all types of usage. Producing 38.3 lb.-ft. of torque @ 2,800 rpm, this 953cc engine has low-end pulling power to spare for the most rigorous of needs.
The diesel engine is matched to the Kawasaki Automatic Power-Drive System (KAPS). It's a continuously variable transmission (CVT) that features a high and low range, reverse, and helps keep engine rpm in the most efficient range for any selected vehicle speed, load, or terrain. It yields a wide drive ratio spread for ample pulling power and quick acceleration. Large torque converters maximize belt engagement area and improve heat dissipation, boost strength and durability, and are aided by the use of a thick, strong drive belt and sheaves with high silicon-type material.
Tuned specifically to accommodate higher payloads, the KAPS also features a high-flow cover that helps cool the CVT while providing superb splash protection and water-proofing. This reliable system uses a dependable, low-maintenance shaft drive to transmit power to a dual-mode rear differential that can be locked to maximize traction, or unlocked to minimize ground disturbance when making tight turns. The operator can also select four-wheel drive for extra pulling power in difficult conditions.
Wear is further reduced by cooling the torque converter with filtered air, courtesy of a special air cleaner that uses an easily replaceable filter element and an efficient intake cooling fan to draw sufficient air into the CVT. The engine air cleaner is a cyclone-type Donaldson unit with a replaceable paper element. This efficient design needs less frequent cleaning, even with repeated use in extremely dusty off-road conditions. The Mule is equipped with a gauge indicating when the filter should be changed. Helping the filter stay clean and last longer—especially in the rugged conditions for which this Kawasaki was built—the engine air and converter cooling air are drawn from the top of the cab frame, where there's less dust.
CHASSIS
Among this Mule's many attributes are a dual-mode differential, limited slip front differential, two-speed transfer case for the four-wheel drive, independent MacPherson strut front suspension, DeDion rear suspension, and four-wheel, self-adjusting sealed hydraulic drum brakes. Additional driver/passenger comfort is derived from the 23-inch tires with stiff sidewalls that improve off-road function and add ground clearance. The rear wheel bearings use two rollers in one large bearing for more durability.
BODYWORK/ERGONOMICS
The Mule 4010 Trans4x4 Diesel is equipped with several simple, dash-mounted controls that include the shift mechanism, digital hour meter, horn, speedometer, a 12-volt, 10-amp DC outlet and a pushbutton switch for the 35-watt, cat-eye headlights. A parking brake and coolant temperature warning light in plain view, and dual sealed glove boxes round out the operator-friendly cockpit of the Mule. The extendable cab is surrounded by the large-diameter steel tube frame structure that meets federal Roll Over Protective Structure (ROPS) requirements.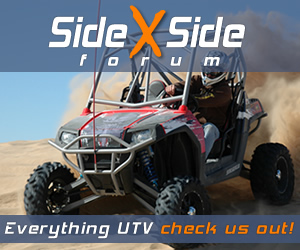 Convenience features on the new Mule 4010 Trans4x4 Diesel aren't just limited to easy-access latches or controls; they also extend to owner-friendly features like the winch-ready tabs located under the front grille, which greatly-simplify the winch mounting process. The Trans4x4 Diesel can also tow up to 1,200 pounds. To keep from draining the battery, the EPS only operates when the engine is running. Other popular accessories include an enclosed cab, cab heater, snow plow, and soft or hard tops. These and many other Authentic Kawasaki Accessories are available through Kawasaki dealers.
Kawasaki's tag line, "Let the good times roll.™", is recognized worldwide. The Kawasaki brand has become synonymous with powerful, stylish motorcycles for over four decades. Information about Kawasaki's complete line of recreational products and Kawasaki affiliates can be found on the Internet at www.kawasaki.com.
Review By: UTV Off-Road Magazine