It's always worthy of our attention when Honda releases new products, especially now as they begin a new trek into the UTV market. Before diving into Pioneer, which is their latest release, it's important to understand a little Honda history. We live in an "it's not my fault" culture these days, much like the 1980's. I know I'm not the only one who remembers the unfair rap Honda received back then from the sharks of a famed television who delivered a damaging report portraying Honda's 3-wheeler line as dangerous. In the end, these undeserved attacks led to countless lawsuits, the banning of further production of three-wheelers and set a horrible new precedence for the future of four-wheeled production performance off-road vehicles. Long story short, when it comes to Honda's utilitarian and recreational vehicles, they are generally mild on power and performance with top focus on safety and quality.
It's a common question: Why has Honda taken such a conservative approach to the UTV market? Well, a lot of time has passed and Honda says they've committed to stepping in deeper with a new full-on commitment to the UTV market with the 2014 Pioneer, although that does not likely mean you'll be seeing any super high powered rides at the level both Can-Am and Polaris have been producing, but an exciting move forward, in my opinion. Let's dive into Pioneer.
HONDA PIONEER 700/700-4
I recently was invited to see the very first Pioneer roll off the assembly line, meet some of the great Americans that are assembling it, and take it for a test spin so that I could give some first impressions and thoughts. Let's say the experience heightened my excitement level drastically. First off, it's exciting to hear that 65 new jobs have been created right here in the good ole U.S. of
A. –Timmons, SC, to be exact — and to hear the excitement these people have for building a top notch quality vehicle for their customers. It's also a boost hearing directly from Honda that Pioneer is just the start, as it represents the first of many. Come on guys, this is Honda and that's exciting, right? And to top off my experience, getting behind the wheel and pushing it hard proved to me that even though it is able to accomplish all that Big Red could accomplish work wise, it was just as able to go to the next level by being extremely fun with three friends on the trails.
KICK IT IN GEAR
I'd hate to lose your attention with mind numbing paragraphs of specifications and details, I'd suggest hitting up the chart below for that. I'll touch on the important highlights. The Honda Pioneer 700 and 700-4 are both utility/recreational UTVs that focus on quality, reliability and affordability. Offered in two versions, the 2- or 4-seat model, it is powered by a 700cc, liquid-cooled OHV, single-cylinder four-stroke engine that is three MPH faster than its predecessor Big Red. That's a total of 43 MPH and also offers a peppier response to acceleration. It makes use of pretty much the same CVT style transmission found in Big Red. That means no squeaky wet, slippery or shredded belts to deal with. It does not currently offer a power-steering model, yet engineers claim that it's designed to steer with just the right amount of ease and precision and that helps in obtaining a much more cost effective vehicle. Yes, I happen to agree that they are, for the most part, correct; although, I'm sure certain scenarios might be better handled with the extra assist. On the 4-seat model, the seats fold up for those times of hitting trails with friends or family, yet fold down creating a bed for hauling quite easily. The conversion overall is simple and easy to switch back and forth. For those who like accessorizing, Honda currently offers 57 items to a growing list of approved factory accessories. They made it clear that the list is still growing, so expect a wide variety of options to be available.
IMPRESSION – FIRST RIDE
Just as it says above, this is a first ride impression with only a minimal amount of test time. With that said, I was able to get a good feel for it. I spent my time in both the 2- and 4-seat models as wisely as possible. A portion of more technical testing as well as pounding hard through the weaving tight and somewhat rugged South Carolina pine tree (my favorite part) filled trails were my focus. Curious?
Quality was, for the most part, just what you'd expect from Honda — a solid ride for sure — although the finish seemed maybe a notch under what I'm used to seeing in some portions of the machine. For example, the area where seats fold into a bed was extremely minimal in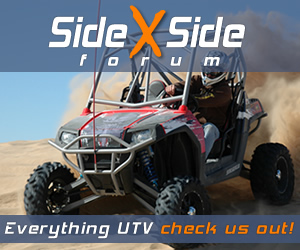 the looks department. Functionally, it was great, it just didn't have quite the polish we've come to expect. Keep in mind, though, they were working towards keeping that price more affordable. Makes sense to me. But in other areas, it was on par. Doors operate easily, but latches are hard to find with a helmet on, as it's hidden inside and not marked. I'm sure with more time it will be a non-issue. Driver and passenger ergonomics were typical, meaning excellent as usual – an area where Honda excels. The shifter moved into any gear with ease, parking brake was tight for parking on unleveled ground, and the floorboards have traction built into it to help keep your feet from sliding around too much in rough terrain. A decent amount of storage space is available in the glove compartment, but you might have to search in the accessories catalogue if you need additional storage. If I had any complaints, it would be the frustration of getting in and strapped quickly. Getting doors opened and closed, seatbelt buckled, nets secured are all great safety items, but were frustrating to get locked down quickly.
When it came to the power and performance side of things, it's no hot-rod, though I for sure found the acceleration noticeably peppier than Big Red. It pulled as hard as can be expected for its purpose and reached top speed fairly quickly. It didn't bog down the motor's power when loaded with all four passengers. I personally was impressed with the stability while I darted through the trees, diving hard into each turn. It did not have that scary, tippy feeling, but rather planted itself nicely regardless of speed. That goes for off-camber creeping and crawling, as well. The ride actually seemed smoother on the 700-4, especially when it was loaded with either all four passengers, or a heavy load in the bed. The front suspension did bottom out at times when hitting potholes, ditches or objects at speed, but it's not really a vehicle intended for deep whoops or XC racing.
OVERALL IMPRESSION
Looking for a high-performance racer? Pioneer is not built and marketed for this.But keep an eye out and let's see where it all heads. How about a good quality, hard worker that makes a great family vehicle? Okay, that it very much is. Need a solid ride to go fishing and hunting, trail riding, and maybe you'd even like hitting up the trails for adventures and exploration? Honda Pioneer just might be for you. It's good quality, it's workable, it's a ton of fun, and it has a decent price tag. Oh, and it's Honda. It proves to me that we're more than likely going to see some really great models added to the Honda lineup sometime in the near future. At least, that was the impression they gave me.
Review By: UTV Off-Road Magazine