From every corner of the country, and in between, editors and test riders from North America's most prominent side-by-side publications convened on a private stretch of land in upstate New York — 2,000 acres that housed miles of tight and densely wooded trails. At first, and for all of us in attendance, it seemed like an odd place for Can-Am to host a sport side-by-side press introduction…
…but it couldn't have been more perfect.
Redefining "Tree-Hugger"
The new Can-Am Maverick XC does just that. In a nutshell, it's a Maverick with narrower width and retuned suspension, designed to master highly technical trails and tight turns at blistering speed; and it does so without sacrificing horsepower, suspension performance or cornering ability. Whipping a hairpin around Mother Nature's magnificent skyscrapers has never been this much fun!
Maverick XC Essentials
Sidewall to sidewall, the Maverick XC is 60 inches wide. That's plenty of width for stealthy dune rides and blasting through open terrain and high speed sweeping corners, but the XC excels at dodging trees — and it does so with confident precision.
The XC package includes Tri-Mode Dynamic Power Steering (DPS), which provides High, Medium and Low selections with the push of a button on the XC's updated 3-D analog / digital gauge package. In the tight woods, we found the "medium" DPS setting to be just right. We could tackle rocks, roots and tight corners with just enough terrain feedback to make us feel confidently in control, but not enough to be fatiguing. The system also automatically adjusts to speed conditions, providing more power assistance to conquer tough obstacles and tight turns where it is needed most, and less for better tracking at higher speeds.
I've actually been a critic of Can-Am's Visco-Lok front differential since my first ride on a Bombardier Outlander 4×4 ATV. Yeah… before they called
them Can-Ams. Back then, I couldn't bring myself to trust Visco-Lok to operate like a manually-switched full locking front differential. That's all changed now. In fact, the engineers at Can-Am have put Visco-Lok through a number of upgrades since the mid-2000s, but this time — they nailed it! Visco-Lok QE (Quick Engagement) performs flawlessly. We found the steepest, muddiest incline we could, projecting upward out of a slippery stream crossing. The front wheels engaged and pulled us up the hill without any wheel slip or side to side hop; not even a shudder. Power is seamlessly transferred to the front wheel that grips more traction, without any affect on steering. QE ads a whole new level of thrills and confidence to ugly climbs.
Narrower doesn't necessarily suggest less suspension performance — not at all! While the XC does make use of shorter A-arms, dual rate FOX 2.0 Podium X shocks (that are rebuildable) still provide 12 inches of travel. The shocks are tuned for aggressive trail riding and stability through hard turns. Honestly, we couldn't tell much difference between the narrow Maverick XC model and the 64-inch wide Maverick X in fast sweeping corners. Dunes, desert? Yeah, it will do that just fine, but the XC excels at tight wooded trails. Ninety-degree corners provide more fun that most can handle. Once the trail opens up, punch the gas and watch roots, rocks and trees turn to a colorful — and very comfortable — blur.
The XC comes with your choice of two colors ; yellow and black or white with red and black trim. The latter stood out as a favorite for most editors, including us. X-package graphics and interior trim are accompanied by a custom steering wheel, and 12-inch aluminum beadlock wheels. The wheels look sweet, but they'll be useful if you like your trails nasty.
The 2-inch shorter A-arms and 2.0 Fox Podium shocks offer up a respectable 12-inches of suspension travel and 13-inches of ground clearance. There is no sweeter sound than what flows through the dual exhausts on a Maverick. The xc width is just over an inch wider than that of the Commander but boasts a full two inches more wheel travel.
"You Can't Muzzle A Maverick!"
It's a hardcore trail performer that sacrifices nothing. The 100-plus horsepower growl sounds like no other – especially in the woods – and it looks just as mean! If your ultimate side-by-side needs entail conquering everything the woods can throw at you at hyper-speed, then the Maverick X XC has got you covered.
Ten Reasons Why Upgrading to DPS is a Worthy Investment
To DPS, or not to DPS ?
In a nutshell, here's what the DPS package adds to the Can-Am Maverick 1000R X RS:
Tri-Mode Dynamic Power Steering
Visco-Lok QE
Updated 3-D analog / digital gauge package
2 X-package color options: New white with red / black and black / yellow.
Fully adjustable front and rear FOX 2.5 Podium X Performance shocks
12-inch aluminum beadlock wheels
Custom steering wheel
X-package graphics and seat trim
We hate big decisions, especially when they cost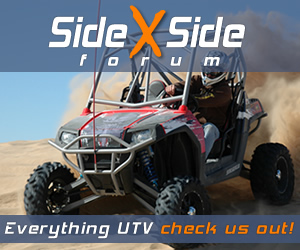 extra money; and in this case, the difference is $1,100. However, this decision is a no-brainer for numerous reasons.
REASON 1: Bumps, Roots and Whoop-de-doos
If you want to go fast, like most of our readership, then your number one consideration should be suspension. The Maverick already has more than enough horsepower on tap to please the best drivers, but it's of no use if you can't keep the power on the ground. Suspension action backed with FOX's 2.5 Podium X Performance shocks is stellar compared to the base model; we tested both, side by side, in grueling terrain. The ride is surprisingly plush, but never dives forward or wanders in the corners.
REASON 2: Dune Chop
Busy dune weekends at Glamis are always fun, but the amount of traffic the dunes take on leaves a lot of deep tire grooves in the bottom of the bowls. This is another area where good suspension works wonders, but power steering shares equal appreciation. Dynamic Power Steering not only makes steering easier, it doubles as a steering dampener by forcing the front wheels to cut through that dune chop with hardly any feedback to the steering wheel.
REASON 3:Tight Trail Superiority
We tested a DPS and non-DPS Maverick in the tight woods of upstate New York, and found the DPS unit to be far less fatiguing. There's nothing wrong with the base Maverick's turning ability, but the assistance of the DPS provides more control of the steering wheel.
REASON 4: Muddin' Stuff
DPS is great, but the new Quick Engagement (QE) Visco-lok system is equally impressive. Now, the transfer of power from a slipping front wheel to the one that grips traction is so fast, you don't even notice it. It's essentially a front locking differential for dummies that even the 4×4 pros will appreciate.
REASON 5: Rock Crawlin'
Again, Visco-lok QE takes all the brainwork out of knowing when to use front differential lock. It also crawls up steep rock faces without having to constantly muscle the front wheels to a straightforward position, thanks to DPS.
REASON 6: Bling!
12-inch aluminum beadlock wheels just look wicked, but they are also functional. They keep your wheel edges straight and your tires full of air — especially in all of the severe trail conditions that we mentioned above. A much sportier custom steering wheel provides better grip, and you get your choice of two different color and graphics packages. Red, white and black really turns heads!
REASON 7: Keeping up with the Jones's
Your buddy got DPS and you didn't? You're going to kick yourself in the butt.
REASON 8: Chicks Dig It!
Especially if you let them drive. It's blingy, easy to steer and it's easy to park at the mall (considering you live in a state where side-x-sides are street legal).
REASON 9: Great Value
Dynamic Power Steering and Visco-lok QE alone are worth the price of the upgrade. All the other stuff is frosting on the cake.
REASON 10: You Can't Upgrade Later
Purchasing aftermarket wheels and shocks separately will top the price of the Can-Am upgrade alone, and you can't upgrade to DPS and Visco-lok QE without making some expensive and labor intensive modifications.
Bite the bullet now and go for the Maverick 1000R X RS with DPS. You'll thank us later!
Review By: UTV Off-Road Magazine