With 5" over factory long travel kit , Fox Podium X Shocks with reservoirs, 800 High Output Engine and top speeds of 63 mph, the Polaris Ranger RZR S 800 will be hard to beat.
Well, we've all wondered what Polaris was going to do to the RZRs this year, especially after having such a successful introduction. We've heard the rumors of larger engines, different shocks, to long travel, to who knows what, but today we're going to walk you through what we find as being the most exciting vehicle of 2009. And, we thought the first introduction was exciting, huh?
Before we jump into the specifics of each RZR for 2009, let's cover all the updates that Polaris addressed over last year for both RZRs this year:
• New heal pocket = No more jerky throttle response at slow speeds
• Improved shifting?• Reinforced front frame
• Thicker gauge rear upper shock mounts
• Reinforced rear frame
• Quieter ride
• Improved side nets
• Sealed under seat storage
• 30% stronger roll cage
• Turned down exhaust tip = Less fumes in the cab
So, now that we've listed all the changes out to you, let's jump into the exciting new RZR S. Well, for 2009, Polaris has quickly realized that ATV sales are down and UTV sales are still in the double digits. In addition, it appears that there are a lot of current sport quad and utility quad owners that have since sold their ATVs and converted to UTVs for many different reasons. And, because of this and other factors, the new RZR S is Polaris's answer for the ultimate
sport and recreational SxS to date. So, what's different you might ask? Well, it's pretty obvious that Polaris has added a long travel kit, just from looking at it, but here are the specific updates for the RZR S:
• 5" over factory long travel kit = 12.5" ground clearance and 12" of suspension travel
• Fox Podium X Shocks with reservoirs including compression dampening and preload adjustability
• 800 High Output Engine = 55 HP instead of 52 HP on stock RZR
• Top speed of 63 mph
• All new 5K mile MBL clutch belt
• Fender Flares = Less mud in your face
• Additional rear roll cage section = stiffer overall frame and better protection
So, what do all these things add up to? More fun than you can possibly have in any other SXS out there…period! If you've never ridden a RZR with an aftermarket long travel system installed, you're really missing the boat. And, for those thinking that it's too wide to go down trails, think again. Yeah, if you indeed have 50" trails that have gates, then the stock RZR is the machine for you. But, if you're not limited by those restrictions, I'd highly recommend taking a look at the new RZR S. We all know the stock RZRs ride and handle amazingly well, but when you extend the A-arms 5" per side and add Fox Podium X shocks, the ride takes you to a totally different level. No longer do you feel the little bumps, and the large whoops and jumps are absorbed like no other stock SxS has ever been able to do. It's about time an OEM manufacturer stepped up and did this from the factory, that's for sure. Keep in mind that there are a few 6"-8" long travel kits out on the market that provide as much as 16" of wheel travel, but if you want an out of the box SxS with full factory warranty and financing options, this is the only way to go, in my opinion. And, Polaris didn't stop there. They could have easily gone with a 6-8" over kit like the rest of the systems out there, but then it wouldn't still fit in the back of a full-size pickup truck. But, the RZR S does! And, this brings me to another point about long travel equipped SxSs. The RZR S is the same width as a Ranger XP, so if your Ranger XP can make it down your trails, the RZR S can, too…only way faster! And, keep in mind the RZR's main body is still only 50" wide, so you'll be getting smacked by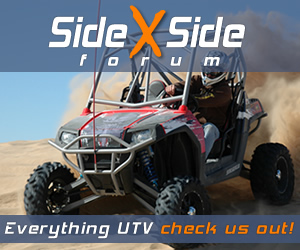 branches a lot less, as well.
The RZR S gained 55 lbs by adding the longer A-arms and additional tubing for the cage, but Polaris equaled this out by equipping the RZR S with the 800 H.O. engine, which is 3 HP more than the stock RZR. If you do the math, that's 5.5% more weight and 5.5% more power. So, between the trail capable RZR and the RZR S, the acceleration and power are virtually the same. They achieved the power gains by changing the exhaust header tubing, the head, and probably a few other things.
The new Polaris Ranger RZR S is equipped with a new, stronger, and more durable clutch belt. We didn't get the specifics from Polaris, but my guess is that if these belts prove to hold up better than the stock belts, it might be a great upgrade for us existing owners, possibly. Anytime we can add strength and longevity out of a wear item, it's a good thing.
Last, but not least, the new Polaris RZR S has some stylin' new fender flares that really help to keep the mud out of your face when cornering with the long travel. The nice thing is these same fender flares will fit on existing RZRs, as well. They really make the look of the new RZR S, when combined with the cool looking graphics, macho and aggressive looking.
So, now that we've covered all the new additions for the RZR S, let's talk about how it drove. One of the first things I noticed is that it's not stiff like a lot of aftermarket long travel kits I've driven. After talking with some of the Polaris engineers, I learned a lot on why it rides the way it does, and we'll get into it shortly. There's something amazing that happens with extra width and more travel. You quickly find yourself having to press the brakes harder because you're entering corners a lot faster, power sliding like a champ, and jumping things at full throttle instead of babying it. I've also ridden many long travel kits that don't quite have the same steering characteristics as stock or even worse. One of the things you learn to do when racing or driving these SxSs aggressively is to tap the brakes to load the front end and get the vehicle to turn. Because of the adverse conditions we had while testing these vehicles, it was needed even more because the ground was slick and muddy. And, this is where I was amazed. I had no problem at full speed turns to get the RZR to turn on a dime.
So, back to the plush ride it provides at slow speeds. We all know the common problem we have with our SxSs bucking in the back, right? I mean, most SxSs when launched through the air tend to land on their noses, which we all know causes quite the pucker factor. The best stock machine that we've tested has been the Kawasaki Teryx, but all the others, no matter what we did, always tended to buck and land on the front end. So, after a discussion with the head engineer for the Ranger RZR S, Aaron described in simple terms why this happens. In the past, I've always thought the bucking could be prevented by increasing the rebound dampening of the rear shocks and maybe reducing the rebound dampening up front. But, this is all wrong, actually. The reality of the situation is that the rear shocks don't have enough compression dampening, causing the rear to fully compress and rebound viscously from the bump stop to full extension. So, when Polaris designed the shocks for the RZR S, now you understand why they only provide compression dampening adjustment and not rebound adjustment. What amazed me is how effectively this worked at letting the vehicle still be plush at slow speeds, yet when the speeds increased it still didn't buck or bottom out over the large jumps. Plus, with more compression dampening, you can run a lighter spring. And, a lighter spring means there's less force upward when rebounding, which also means less rebound dampening is needed. All I can say is when you watch the videos of us running the whoops and jumps at full throttle, you'll see exactly what I'm talking about. Go watch some aftermarket company's videos on Youtube in slow motion, and you'll quickly see how they react differently than a lot of kits I've seen out on the market. I guess there's something to be said about good 'ol OEM Polaris engineers after all!
All I can say is Polaris really stepped it up this year with the new RZR S. The great thing about it is you can get full factory warranty on a long-travel equipped RZR. Plus, if you wanted to race it in short course or some desert races, all you need to add is a fuel cell, doors, window nets, 5 point harnesses, and you're good to go. One precautionary measure would be to add a stronger roll cage too, but some extra gusseting could easily get you by. Not having to spring for a $5-7K long travel kit on your own dime is huge, especially when you can finance the whole thing at your local dealer.
Review By: UTV Off-Road Magazine