by SEIZMIK
Key Features: This durable full cab enclosure system has front, side, and rear ventilation, no roof sag, and has an amazing fit and finish second to none. It offers the seal and security of a hard enclosure but it's super lightweight so it wont weigh your Yamaha Rhino UTV down.  Structural roof and door frames are extremely sturdy with an industrial grade, UV protected, PVC coated denier nylon wrapping.
Available in these UTV Models: Yamaha Rhino – 2007-2008
Color options: Black
UTV Door options:  The aluminum door system offers 3 different easy and quick to configure options to accommodate most any riding condition.  Run the doors as fully paneled door with zip open windows, as a half door, or as a bare UTV pre-runner style frame for open driving. The windshield is full length with separate driver and passenger ventilation ducts providing air flow with full environmental protection inside the Yamaha Rhino.
 Windshield options: This windshield offers much needed ventilation and seals the area between it and the Rhino's hood. This way no unwanted dust, water, mud, etc., can find it's way through. But sometimes we want air coming thru the UTV, so we installed separate driver and passenger zip open ducts to provide air circulation into the cab. You control the airflow when you want it! Zip them open, roll them up and they velcro nice and neatly so they don't flap around.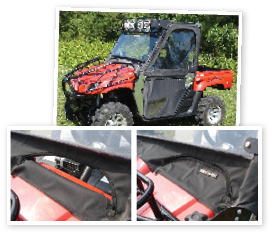 • Impact resistant acrylic
• UV resistant PVC coated denier nylon lower panel
• Fully seals area between Rhino hood and windshield
• Passenger & driver zip open ventilation ducts
• Integrates with Seizmik UTV light bar kits
• Easily installs without drilling
Soft or Hardshell:  Soft Cab Enclosure.
Price includes:
1. Hybrid Roof Structure #18032  MSRP $179.99
2. Vented Windshield #30065 MSRP $219.99
3. Modular Soft Top #18033 (requires #18032) MSRP $169.99    
4. Modular UTV Door System #04012 MSRP $699.99
Integrates seamlessly with Seizmik Light bar kit. (sold separately)
Contact: visit: www.seizmik.com or call: 919-957-0044